Understanding the Public Media Audience
Public media's audience is as unique and varied as the public it represents. There's no one-size-fits-all description that makes up the audience, making for a diverse pool of public media fans. Our latest eBook helps businesses better understand how this valuable audience can fit into a strategic marketing plan, peeking into the lives of public media fans who are: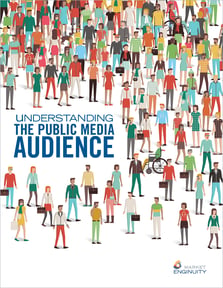 Professionals
Creators
Educators and Government Employees
Business Owners and Managers
Environmental Advocates
Learn how public media attracts a diverse audience, and how this yields better results for your marketing efforts.
Fill out the form for your free copy today!